Description
Matt, just that.
Matt paste is about the most versatile hair product. It looks completely natural, plus it's not greasy at all, which makes it very easy to wash out.
It offers a medium hold - that's enough for most men, but if you happen to have longer hair or are keen to create a complicated hairstyle, get our stronger version.
Our paste is water-based, which makes it truly easy to wash out. No need to change your daily routines - you just take a shower, wash your hair and that's it. You're as good as new.
Made in Czech Republic. Like all our products.
It contains 72 % of natural ingredients. We couldn't push that number up any further, but we at least steered clear from any petroleum-based derivatives.
How to use
Dry hands, wet hair.
Scrape a bit of paste on your finger, warm between your palms and apply to your hair.
Main ingredients
Kaolin - a mineral substance that eliminates greasiness, leaving your hair looking completely natural. 
Hydrolized keratin - your hair is made of keratin, which is why it might be a good idea to provide some to your hair from time to time, as it heals and strengthens one's hair. Plus it also removes friction and adds volume.
Ingredients
We don't hide the ingredients lists of our products, on the contrary, we are proud to show them to you: 
Aqua, VP/VA Copolymer, Cera Alba, Coco-Caprylate/Caprate, Cetearyl Alcohol, Kaolin, Hydrogenated Castor Oil Behenyl Esters, Ceteareth-20, Parfum, Polyquaternium-7, Hydrolyzed Keratin, Citric Acid, Sodium Benzoate, Potassium Sorbate, Phenoxyethanol, Triethylene Glycol, Coumarin, Geraniol, Limonene, Linalool.
Made in the Czech Republic. Like all our products. Contains 72% of natural ingredients.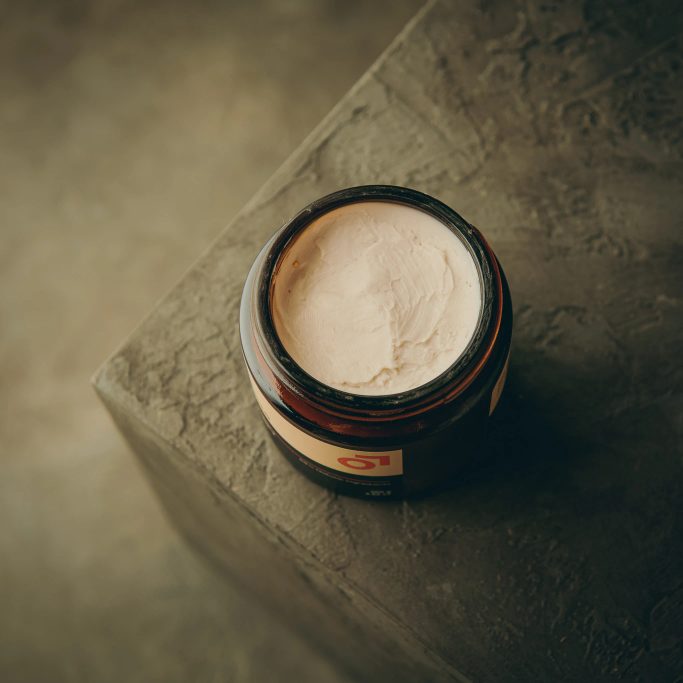 As natural as possible. And functional, too.
We make all our products as natural as possible. But it can't be at the expense of function. Especially when it comes to hair styling. We also get annoyed when it's a bit windy on the street and the morning artwork on our heads is in jeopardy. This paste offers medium hold, no concrete nor glue. It allows you to touch up your hair throughout the day, so when your sweater comes off or the wind messes up your flow on the subway, all you have to do is run your hand through it and everything is back in place.
Product story
"When I was younger, I tried dozens of different hair products. From brilliantine, to pomades, pastes, clays to sea salt sprays. Matte paste is the most versatile product I've ever come across though. We had ours surreptitiously compared to a competing best-selling paste on our market by independent testers before launching. And we won." ~ Pavel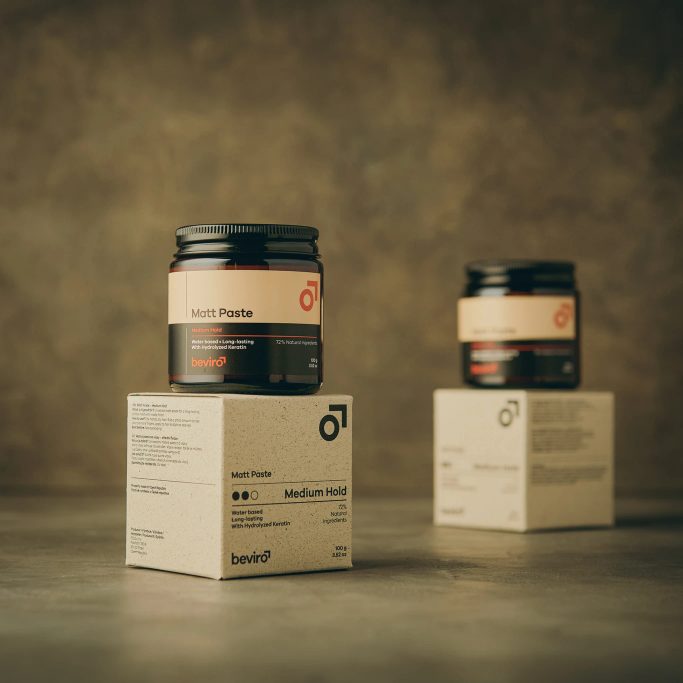 Key ingredients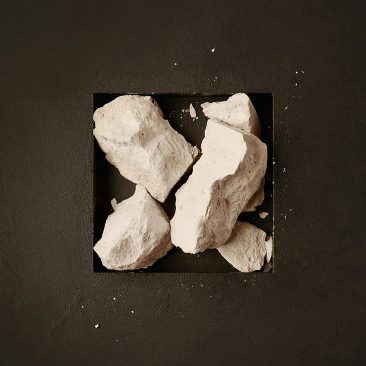 Kaolin
Kaolin, white clay, is the mineral that sets the texture of our hair paste. It eliminates excess grease and leaves hair completely matte.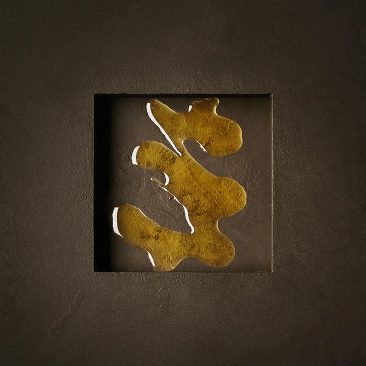 Castor oil
A natural lipid that increases hair elasticity and reduces the likelihood of hair breakage. Nourishes hair primarily from within.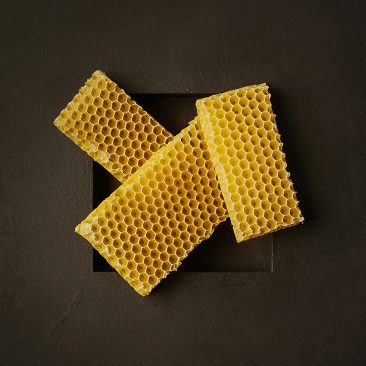 Beeswax
Beeswax, an essential cosmetic ingredient since ancient times, adds texture to the paste, retains moisture in the skin and adds nutrients to the hair.
Specifications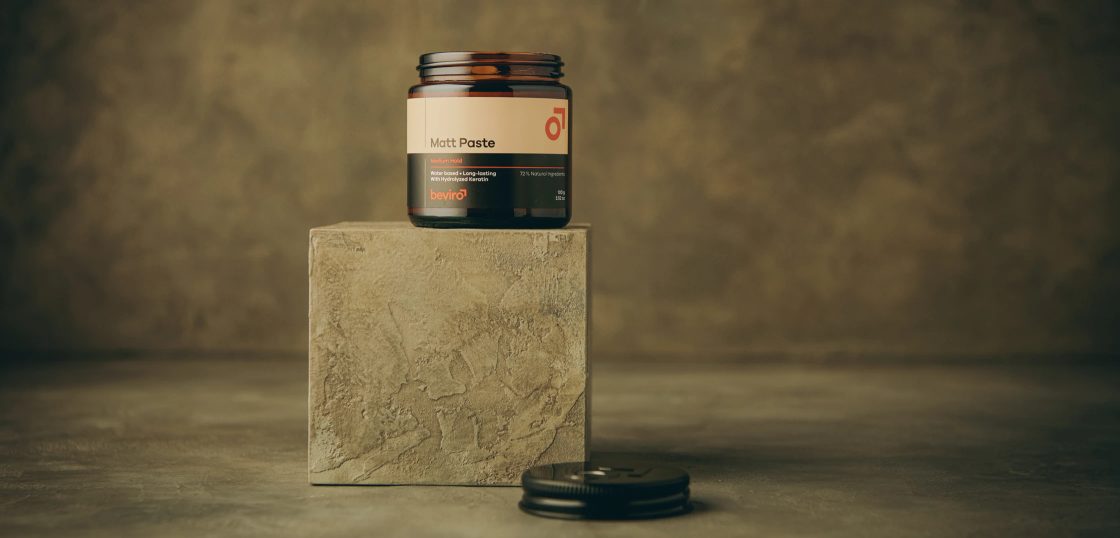 How to use
Dry hands and dry hair. Scoop a little on your finger, spread in your palms and apply to hair.
Functionality
The paste is water-based, so it goes on well, doesn't grease, is easy to wash off your hands, easy to rinse out of your hair and leaves a clean and matte finish.
Combining
For a better hairstyle, combine with our sea salt spray (extreme hold or medium hold), which strengthens the hair and adds volume. The paste then adds the main fixation and finishes the hairstyle.
No reviews for this product yet
Maximum nature
We love nature, so we try to make our products as natural as possible. Sometimes we make a well thought out compromise for the sake of perfect functionality.
By men, for men
We're not just an offshoot of a women's cosmetics brand. Beviro is by men, for men.
Tested by leading barbers
We work with leading barbershops to develop and test our products. This means that Beviro always stands for quality.
Made in Czech Republic
All our products are manufactured in the Czech Republic. Czech cosmetics are world-class.